Facility information
---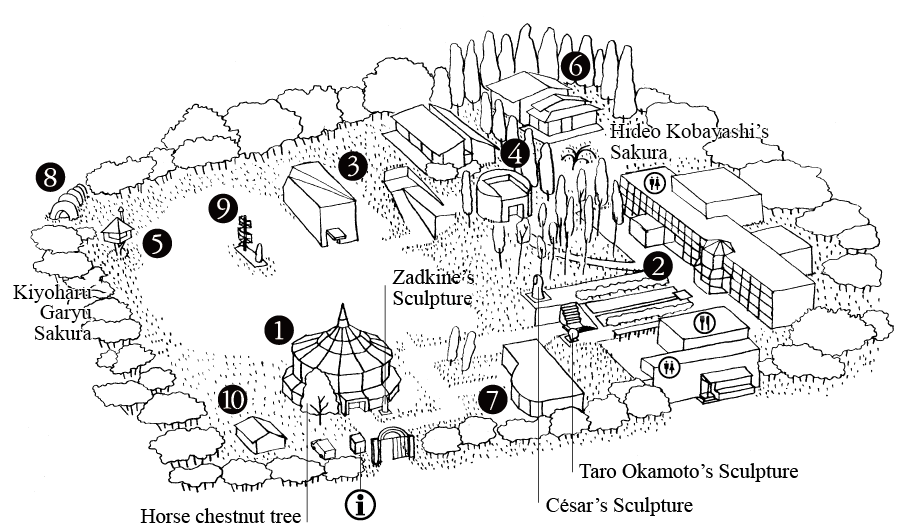 ---
1
---
---
---
La Ruche has the same structure as the original building which was built as a temporary building designed by Gustave Eiffel for use as a wine rotunda at the Great Exposition of 1900 in Paris. In the early years of 20th century, La Ruche became a residence for artists. Chaim Soutine and Marc Chagall frequently lodged and made use of the atelier. Our La Ruche was also built as an atelier for artists. | Established in April, 1981.
---
2
---
---
---
One of the important Japanese modernist architects, Yoshio Taniguchi designed this museum. The main collection are the works of the Shirakaba-ha which was an influential Japanese literary coterie. They did not limit their interest to literature, but also delved into other art forms. There is also a great collection of Georges Rouault. | Established in April, 1983.
---
3
---
---
---
Today Tadao Ando is a well known architect around the world. He designed this museum with use of natural light and for structures that follow natural form of the landscape. The works of Antoni Clavé, a Spanish artist who worked with Picasso, are exhibited in this museum. | Established inApril, 2011.
---
4
---
---
---
This chapel was built to celebrate Georges Rouault, the greatest religious painter of the 20th century. The stained glass placed above the entrance called "Bouquet" was made by Georges Rouault. Also the coloring of the wooden crucifix (17th century), behind the alter were done by his hand. | Established in April, 1986.
---
5
---
---
---
Architectural historian Terunobu Fujimori planed this tea-room and built with a cypress of 80 years old which was grown in this Kiyoharu Art Colony. | Established in April, 2006.| Non-disclosure area
---
6
---
---
---
Ryuzaburo Umehara (1888-1986) is a Western-style Japanese painter. Japanese architect, Isoya Yoshida designed this studio-house. The painter's belongings such as paints, brushes and his favorite easel are stored and exhibited in the atelier. | Relocated in April, 1989.
---
7
---
---
---
The library owns reprints of the literary magazine "Shirakaba" and books/art books of Shirakaba artists. The director of the library is Shuntaro Tanikawa (Japanese poet). | Established in April 2002. | Membership Only
---
8
---
---
---
The five-chambered climbing kiln is used at this studio.
---
9
---
---
---
At the 100th anniversary of the Eiffel Tower in 1989, a part of the tower was relocated from France to the Kiyoharu Art Colony. The sculpture of Gustave Eiffel next to the staircase was made by the French sculptor, César Baldaccini.
---
10
---
---
This is the gas kiln which is used for a pottery trial workshop.
---
---
---
We operate 2 museum shops which offers a wide selection of artist goods, ceramics, original bags, T-shirts postcards etc…
---
---
---
This was the first authentic French restaurant around this area. We used to serve only a full-course meal, but now we serve light meals for lunch. You can also enjoy our desserts at the terras while drinking a cup of tea or coffee or relax with a glass of wine dreaming away in Hokuto's beautifull scenery.
---
---
---
The Cherry trees of the kiyoharu Art Colony were planted in March 1925 by the schoolchildren as the memorial of the completion of the Kiyoharu elementary school. The type of Sakura's are a cross of Oshima and Edo Cherry (which blooms early) and Yoshino Cherry. It has been said that comparatively the lifespan of these kind of Cherry trees are rather short. But at Kiyoharu Art Colony they still show there breath-taking flowers and elegant silhouette every spring. Even after 90 years. In 1970 they were designated as a national natural treasure of Yamanashi.